Exciting news! New school nursery opening in February 2020
We are extremely delighted & proud to announce that 'A Kids Cove' has opened our brand new nursery & daycare as of February 2020, just a stone's throw away from our preschool & daycare in Jalan Keruing, Bangsar.
No 70, Jalan Bangkung, Bangsar will cater for babies and toddlers aged between 2 months – 2 years old as our dedicated baby nursery!
We provide ample space to allow babies and toddlers to move around and play, without bumping into each other and getting injured.
We proudly share our outstanding nursery facilities which looks absolutely fantastic and we also have lots of fun playing and activities that are planned for the babies and toddlers in our nursery while they can also enjoy the outdoor playground and spacious garden in the beautiful sunshine.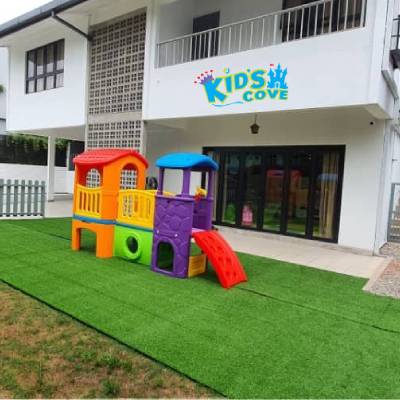 To help the toddlers with their sensory touch and develop their fine motor skills, we have also got a large sand pit in which the children can really enjoy playing in.
Our Child caregivers look after the basic needs of children, such as dressing, feeding, and supervising their playtime. They also provide a beneficial learning environment and a safe "home away from home" for little ones. They love working with children and are naturally fun with an enthusiastic attitude and patient.
To top it off, our caregivers are also warm, caring, self-confident, attentive, and responsive to the children, toddlers & babies. They also encourage social skills and positive behavior,
We look forward to seeing you all soon!!
What our parents say about our child care
services in Bangsar

I just simply love it. Ravitha is the most professional, caring and lovely person. Highly recommend to everyone this place. All the Best!
Vanessa Polaina

Sent my kid here since he was 8 month old. Now he is 3.5 years old and fluently speaks English which he fully picked up at Kids Cove, as we speak mother tongue at home. I don't hesitate to recommend this to anyone. The place is clean, secure and kids in this kindergarten learn the fun way.
Mikhail Mitryakov

A fresh start, for those who already know it all about childcare! Couldn't recommend better than Ravitha, for the job. Don't need to wish or praise more, success is a sure thing. Congrats!
Paulo Polaina

It all started when our son's nanny suddenly decided to quit when he was 8 months old and we were left aghast. Googles search for the best day care in Bangsar popped up Ravita's place. She rescued us the moment we met. My son has been the happiest since then. A fantastic day care with the most loving and responsible teachers. I can comfortably recommend #Kidscove
AlishanHyat

Great kindergarten and preschool where kids can learn and make a lot of different activities in a kindly atmosphere. The manager and staff are highly professional but above all they are passionate about what they do and that makes all the difference!
Dutriaux Alexandra

Great place for my toddler. The staff are really caring, the food they serve is yummy and healthy and there is ample space for my active toddler to run around. With regular updates throughout the day via WhatsApp and access CCTV, I feel confident that my precious one is in good hands.
Nazurah Aziz

Looking for a preschool can be really challenging. We are delighted to have found Kids Cove in Bangsar. The staff is super professional &passionate, the place is modern & clean and the program is a great mix of playful activities & learning. I could not recommend enough RavithaParamesan's little preschool!!! Our little one is so happy to go there everyday. And I know how lucky we are to have him growing in a trustful and friendly environment.
Carol Liz